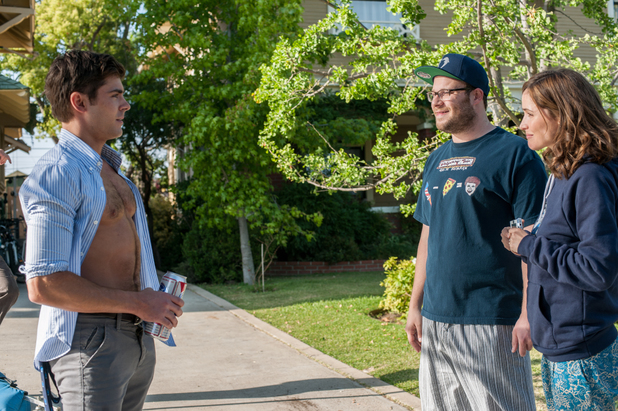 It was quite a slow weekend at the Australian box office, which is understandable given the end of school holidays. The reduction of family audiences has meant that the top two spots have been taken by two comedies skewed towards (slightly) more mature audiences. The top spot was taken by new Seth Rogen-Zac Efron comedy Bad Neighbours, which is incredible considering that the film was only available in advanced screenings over the weekend. Audiences have been pleasantly surprised that the film contains big laughs but also has a big heart, so expect the hilarious film to stick around for a while as positive word of mouth spreads.
The second spot was taken by last weekend's top movie, Cameron Diaz comedy The Other Woman. The film is doing extremely well so far and shows no sign of slowing. On the other hand, Spider-Man may be suffering from a bit of franchise fatigue as Rise of Electro falls to third spot. The film has not been the hit in Australia that it was expected to be, although it did just have an impressive US$91.6 million opening weekend in the States. It's great to see Wes Anderson's brilliant The Grand Budapest Hotel continuing to do great business, and it's exciting to see the May the Fourth Star Wars Original Trilogy marathon coming in at ninth place. This shows that audiences are still thirsty to see Star Wars on the big screen, particularly as the anticipation builds towards the December 2015 release of Episode VII. 
| | | | |
| --- | --- | --- | --- |
| | FILM | DISTRIBUTOR | BOX OFFICE |
| 1 | Bad Neighbours | UNIVERSAL | $2,631,217 |
| 2 | The Other Woman | FOX | $2,239,553 |
| 3 | The Amazing Spider-Man 2: Rise of Electro | SONY PICTURES | $1,354,873 |
| 4 | The Grand Budapest Hotel | FOX | $1,068,088 |
| 5 | The LEGO Movie | ROADSHOW | $766,662 |
| 6 | Divergent | ENTERTAINMENT ONE | $536,337 |
| 7 | Transcendence | ROADSHOW | $526,651 |
| 8 | Captain America: The Winter Soldier | WALT DISNEY | $510,684 |
| 9 | Star Wars: Episode IV, V & VI Movie Marathon | FOX | $367,160 |
| 10 | Fading Gigolo | PARAMOUNT/TRANSMISSION | $244,247 |
This week sees the official wide release of Bad Neighbours, which is likely to take the top spot for the second week in a row. The other major release is the new comedy Chef, starring and directed by Jon Favreau (Iron Man). The film sees Favreau as a chef who loses his job and decides to open his own food truck while trying to reconcile with his family. The film also stars Scarlett Johansson, Sofia Vergara, Dustin Hoffman and Robert Downey Jr. Read our Chef review here. Also opening is period drama Belle, which is based on the true story of an illegitimate mixed-race daughter of a Royal Navy officer who is raised by an aristocratic English family. The film stars Gugu Mbatha-Raw, Tom Wilkinson, Miranda Richardson and Matthew Goode. Read our Belle review here.
All figures from The Motion Picture Distributors Association of Australia and Box Office Mojo.
———-
This content has recently been ported from its original home on The Iris and may have formatting errors – images may not be showing up, or duplicated, and galleries may not be working. We are slowly fixing these issue. If you spot any major malfunctions making it impossible to read the content, however, please let us know at editor AT theaureview.com.