Offensive. Repulsive. Shocking. Unapologetic. These words are always associated with a film starring Sasha Baron Cohen as the lead. Films such as Borat, Bruno and The Dictator have brought levels of laughter due shock and wit, and with his latest film, Grimsby, it is no exception. If you hated any of those movies, punch out now. After having dealt with themes of xenophobia, homophobia and dictatorships, Grimsby deals with social class, but like Cohen's previous films, don't expect any subtlety whatsoever.

Sasha Baron Cohen stars as Norman "Nobby" Butcher, a dim-witted, yet good-natured English football supporter who is living a great life in the poor town of Grimsby. The most beautiful wife in all of Grimsby, Dawn (Rebel Wilson); 11 children, who some apparently have their own children; and a bunch of mates to spend time watching football in the pub. But there's a hole in his life that still needs to be filled. That's not a euphemism. At least, I think it isn't. He has a long-lost brother, Sebastian Butcher (Mark Strong) who is currently MI6's top assassin. As the two meet in a spectacularly chaotic fashion, they are both embroiled in a villainous plot, masterminded by Rhonda George (Penelope Cruz) and her henchman, Lukashenko (Scott Adkins). Will they both settle their differences and join together to save the world? Will the hole in Nobby's life finally be filled by Sebastian?

If you've never seen a movie before, be prepared to be shocked at the story's outcome. The story is haphazardly told and takes long, plot-less detours in settings such as Africa for more comedic opportunities. But seriously, who watches a comedy such as this for the story? The audience clearly comes to watch a movie such as this for the laughs, and Grimsby delivers on that front. The jokes are incredibly gleeful and most of them are without restraint. There are some jokes that are surprisingly subtle, like a scene of mistaken identity that involves a poop joke that is promiscuously delivered in the best kind of way, but the rest are full-bore. There is a scene involving an elephant that is truly unforgettable in the best (or worst) way. Celebrities like Daniel Radcliffe and Donald Trump are referenced in a brutal fashion, AIDS is used as a running gag, and the scenes of physical comedy are so ridiculously over-the-top, it boggles the mind at how the actors can play the film so straight-faced.
Sasha Baron Cohen is surprisingly sweet and good-natured as Nobby, despite his brash and loud-mouthed demeanor but the biggest standout is Mark Strong, as Sebastian. His reactions and his serious line readings to Cohen's antics is what makes the film hilarious, especially in a scene of his character reacting to what happened to Daniel Radcliffe that had me in stitches. Whenever the two are together, the film takes flight. But what is unfortunate is that the talented supporting cast are sorely underused. Rebel Wilson is amusing as Dawn, particularly with her Basic Instinct impression and Penelope Cruz seems to be having a lot of fun as the villain, but Isla Fisher, Ian McShane, Gabourey Sidibe, Barkhad Abdi and others are all either wasted or just used as generic punch-lines.

A strange choice for a film such as this, director Louis Leterrier brings the usual energy and pacing like in his earlier films such as Now You See Me and the first two Transporter films. But the action scenes, while quite thrilling, are of the fast-cut variety that could cause some headaches. Having martial artist Scott Adkins contributing to the action with his fast footwork was a nice touch though.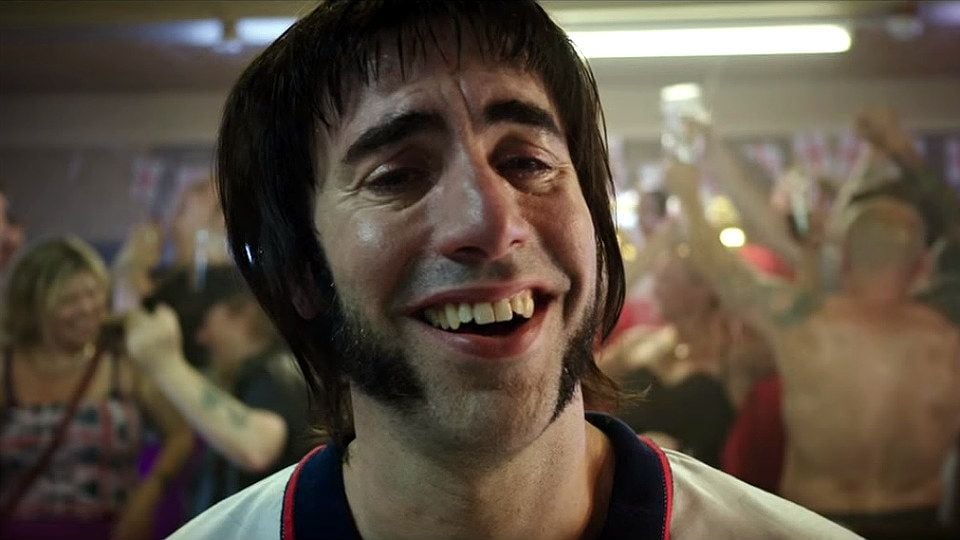 In a world that is seemingly drowning in political correctness, it actually is quite refreshing to see a comedy such as this that clearly does not care whether it is offensive or not. It is humour like this that makes me think to myself that I shouldn't be laughing at the jokes, but the thought of guilt just makes me laugh even harder.
Just expect to feel dirty, guilty and offended afterwards, and you'll have a great time with Grimsby.
Review Score: THREE AND A HALF STARS (OUT OF FIVE)
Grimsby releases in Australian cinemas on the 10th of March 2016.
———-
This content has recently been ported from its original home on The Iris and may have formatting errors – images may not be showing up, or duplicated, and galleries may not be working. We are slowly fixing these issue. If you spot any major malfunctions making it impossible to read the content, however, please let us know at editor AT theaureview.com.